IAITAM 2017 FALL ACE
The world's leading ITAM conference, where you can learn and network with the best and the brightest in the IT Asset Management industry.
---
Inspire your ITAM program and professional development with knowledge based on real-world experience. These ITAM conferences focus exclusively on improving your future in the expanding field of IT Asset Management and the establishment of global best practices. Join IAITAM and your fellow professionals at the IAITAM 2017 Fall ACE in Rome, Italy where all can network, share experiences and take away methods that will bring about success, create efficiencies, reduce redundancy and uncover true savings!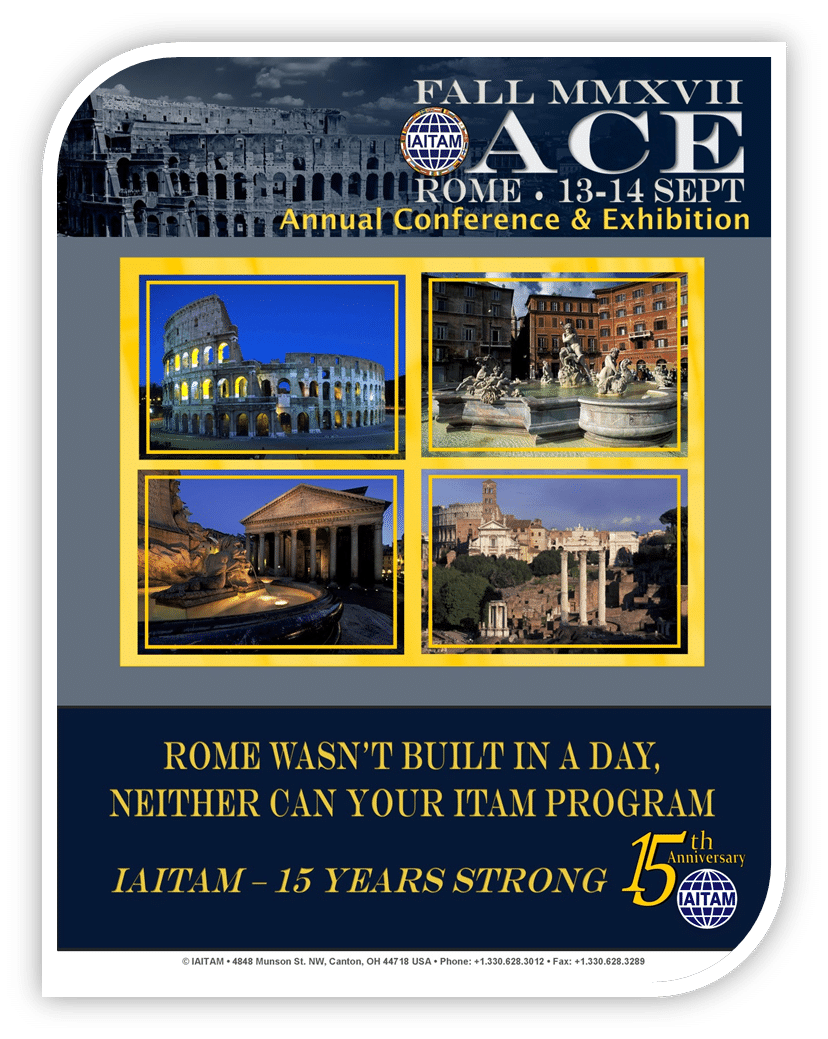 VIEW BROCHURE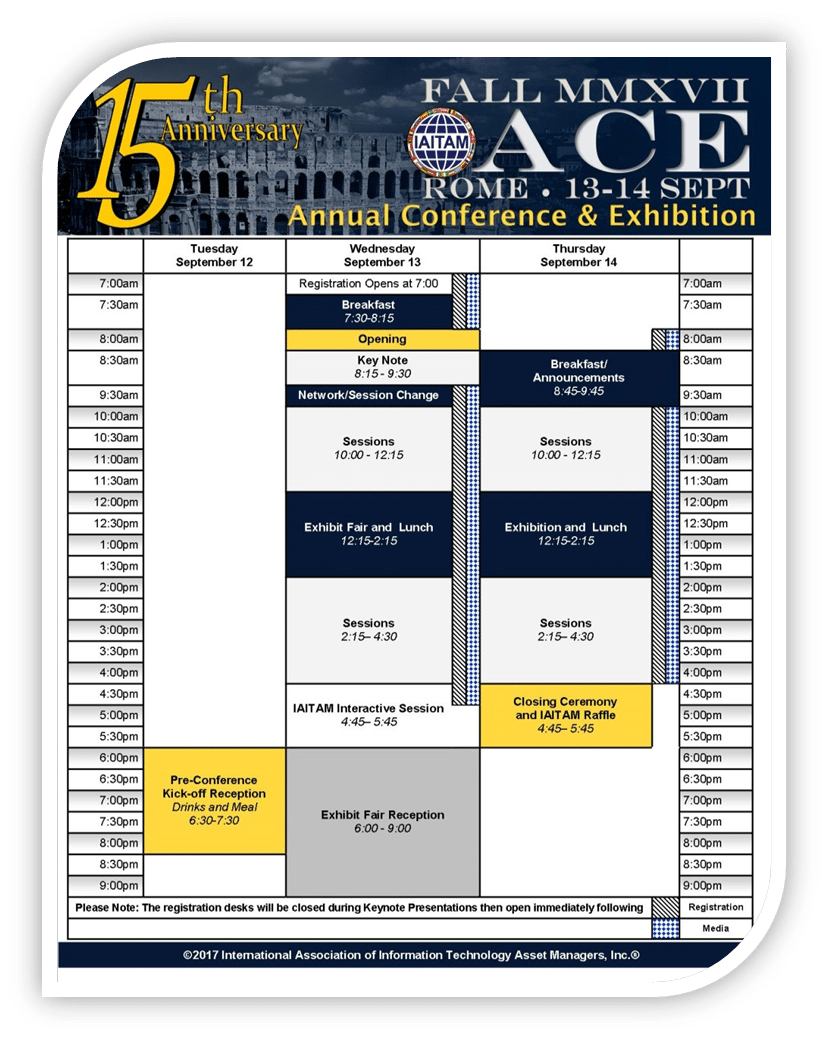 VIEW AT-A-GLANCE
VIEW CASE BUILDER
TICKETS NOW ON SALE!
Register today to secure your seat at the #1 ITAM Conference in the world.
Members SAVE up to 40% on a full ACE pass using their Member Promo Code. (More Details)
To grow the ITAM profession through education and training as well as networking with like-minded professionals at the ONLY ITAM Conference in the world solely dedicated to the advancement of ITAM best practices!
EVENT KICKOFF

Get to know fellow attendees and gear up for the days ahead at this well-planned ice-breaker

Keynote Address

Anne Pietersma of ABN AMRO presenting Getting in Control of SAM in a Multi Domain Organization

Educational Seminars

Get caught up on the latest trends and techniques with our industry educational seminars

Interactive Sessions

Advance your career and learn from colleagues at our focused interactive workshop and/or IMUG

Industry Exhibitions

Network with Industry Providers at the 2017 Fall ACE Exhibition

ATTENDEE ONLY MOBILE SITE

Interact with peers, build your agenda, complete surveys and view sponsor and exhibitor info, session presentations, special announcements and event details all from one mobile site accessible from any device
---
Fantastic and enjoyable first hand experience for me and meeting and networking with some very knowledgeable people from all aspects of ITAM.IAITAM ACE Attendee
ROME WAS NOT BUILT IN A DAY
Likewise, it takes great planning, effort and determination to build an effective IT Asset Management Program. Aid your fellow ITAM professionals through advice, guidance and lessons learned. Through presenting at ACE you can provide real-world knowledge and expertise so others do not have to reinvent the wheel.
Become a Speaker
Keynote Presentation
Getting in Control of SAM in a Multi Domain Organization
Presented by Anne Pietersma, Software Asset Manager at ABN AMRO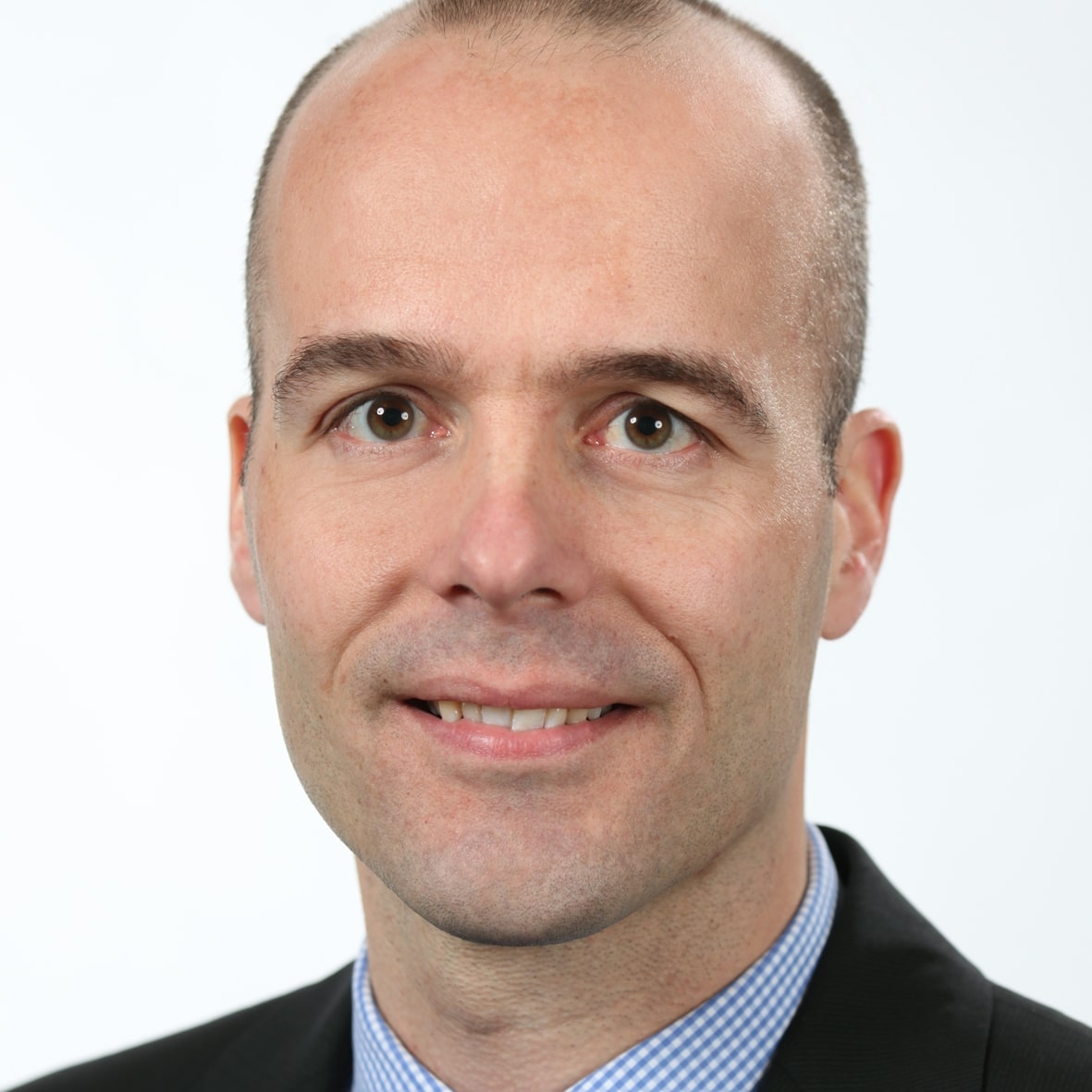 My story is about how our SAM team put itself in the driver seat of SAM in the ABN AMRO organization:
How we unify SAM-stakeholders such as finance, procurement, and IT and manage their expectations;
How the scope of our SAM-program gradually emerges and how we prevent the risk of scope creep; and
How our effort led to the decision of our IT management to mandate us starting the implementation of preventive measures in the processes of procurement, management and even retirement of software assets.
In 2009 Anne started as a banker for SME customers of ABN AMRO. He offered solutions in financial issues and acted as a sparring partner for opportunities and typical entrepreneurial issues. In this role Anne became aware how the quality of asset management affects the continuity and the profitability of a company, and how essential the role of the administrative organization is for both the customers in question as well as the organization.
Anne made a career switch in 2012 and started as Account Manager IT representing the IT run organization towards the IT change organization of ABN ARMO. Since 2015 Anne has the role of business analyst and process owner in the SAM-team of ABN AMRO's service management department.
(Anne is an accepted boy's name in the Netherlands)
TOPIC SAMPLING
IT Security
Case Studies
Integration
End of Life/Disposal
Legislation
Tool Selection Process
Portable Assets
Outsourcing
Asset Tagging
Industry Trends
Negotiations
Identifying ITAM Projects
Identifying Organizational Needs
Discovery
Leasing
Compliance Trends
Escrow
Communications
Processes
License Agreements
ITAM as a Business
Procurement
New Technical Advances
Non IP Trackable Assets
Managing People
Financial ITAM
Lifecycle Management
Repositories
Outsourcing
Vendor Management
SESSION SAMPLING
How to Eat An Elephant: A Practical Approach to Successfully Implementing An ITAM Program

Category: Program | By: Dean Williams, Block 64

Software Asset Management in Outsourcing

Category: Outsourcing | By: Ludmila Kantova, IBM

Contracting Microsoft Cloud Products and Services and Using these in a GDPR Compliant Manner

Category: Cloud | By: Paul Van Den Berg, 4elements BV

Why does SAM fail?

Category: Program | By: Phil Hames, The Business Software Centre Limited

Increase ROI of your Cloud and On Premise Software with Software Metering and Optimization

Category: Finance | By: Signe Marie Stenseth, Open iT

What Cloud Means For Your SAM Strategy

Category: Cloud | By: Richard Spithoven & Cezar Miron, B-lay

Why Software Audits Go Wrong and How to Manage the Outcome?

Category: Audit | By: Daryl Ullman, Emerset Consulting Group

What Everyone Should Learn From the Diageo Case. The Risk of Indirect Use of SAP

Category: License | By: Jan Hachenberger, ConSalt Unternehmensberatung GmbH

ITAM Take-Off - Going Through the Pain

Category: Case Study | By: Krzysztof Baczkiewicz, Ministry of Digital Affairs

The Ins and Outs of an Oracle Unlimited License Agreement (ULA)

Category: License | By: Max Ablimit, Tarim Consulting, LLC

The Future of IT, ITAM and the Rising Prominence of SAM on the Global Market

Category: Program | By: Roger Mallett, Aspera Technologies Inc

Software License Re-use, a Unique Opportunity for Big Savings in Europe

Category: License | By: Gilles Goulay, SOFTCORNER
---
VIEW FULL SCHEDULE
WHO SHOULD ATTEND
The IAITAM 2017 Fall ACE is a 2 day ITAM conference where CIOs, COOs, CTOs, IT Asset Managers, IT Professionals, Finance Managers, Procurement Professionals, Compliance and Licensing Professionals and Legal Professionals come together to explore the latest in IT Asset Management and its effects on business operations and profitability.
The IAITAM ACE fulfills the needs of the ITAM professional with educational lectures, workshops, product demonstrations and networking opportunities. Moreover, it provides attendees with relevant knowledge that can be implemented upon their return to the office to start new asset management programs or improve existing ones. This industry–leading educational event provides valuable opportunities for you to network with peers and leading voices in the IT Asset Management community.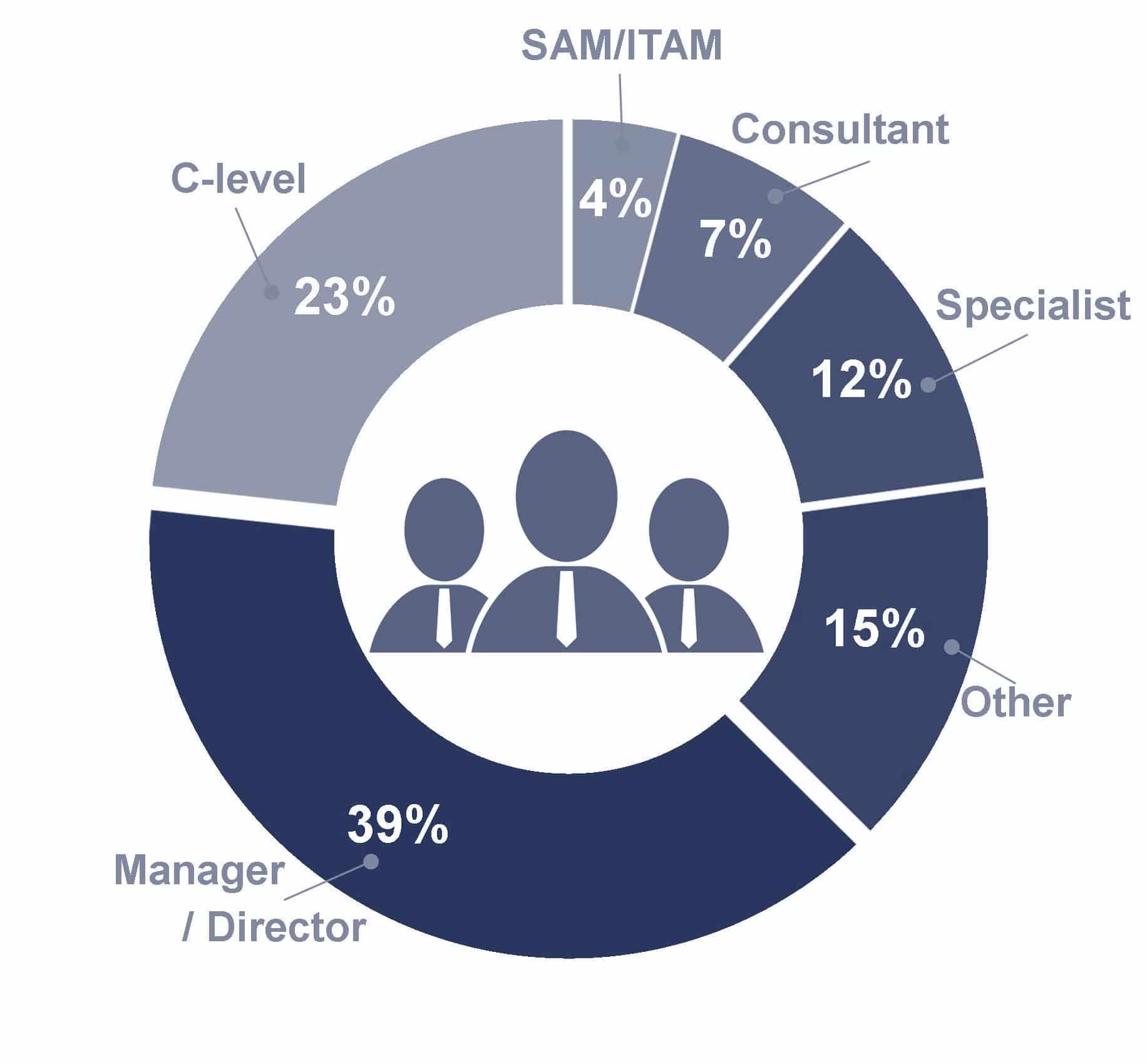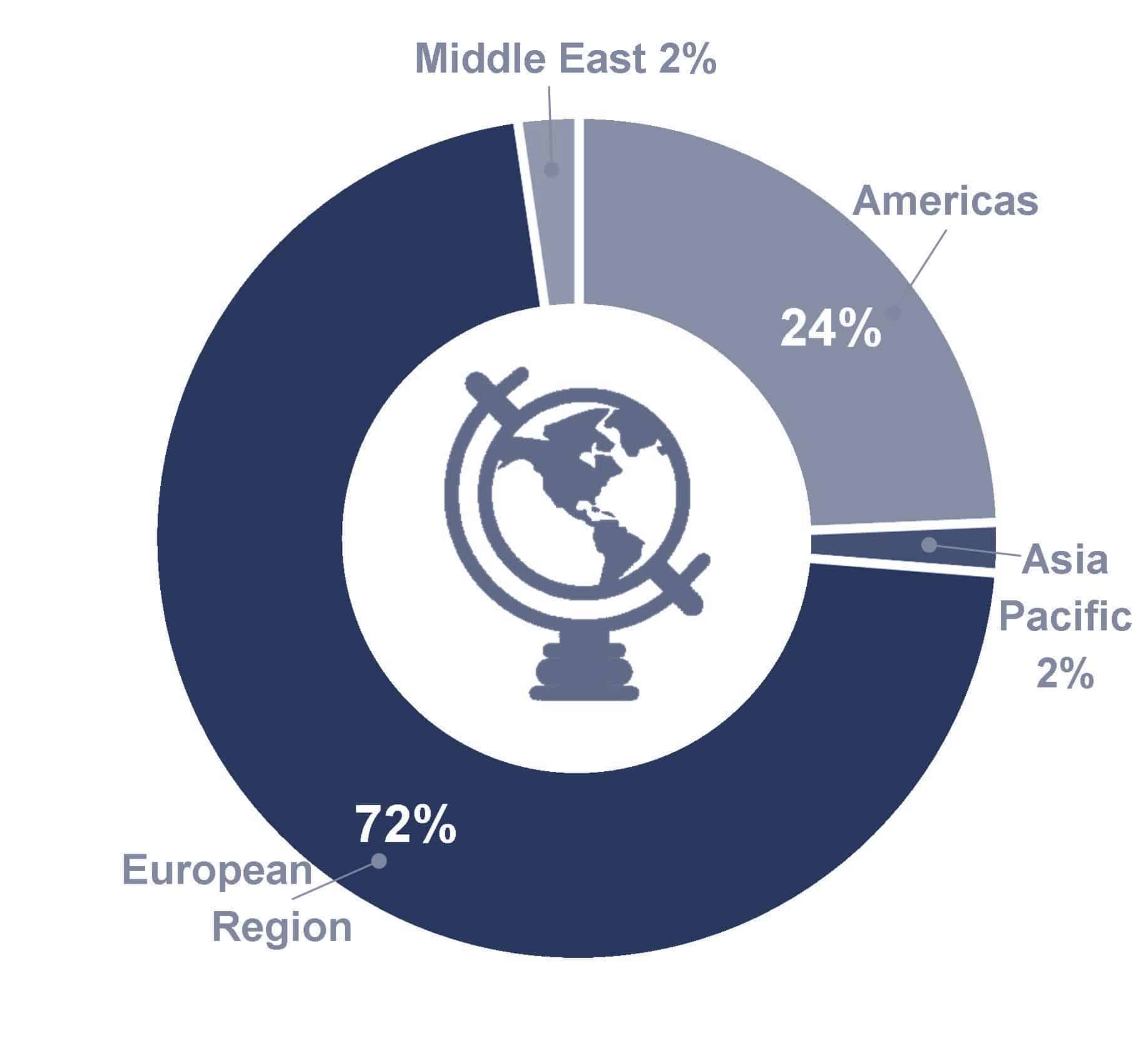 TICKETS NOW ON SALE!
Register today to secure your seat at the #1 ITAM Conference in the world.
Members SAVE up to 40% on a full ACE pass using their Member Promo Code. (More Details)
For any questions regarding our pricing plans, don't hesitate to contact us!
All IAITAM 2017 Fall ACE attendee passes are subject to 22% VAT to be included at checkout.
All Roads Lead to Rome
Rome, Italy's capital, was founded in 753 BC. With nearly 3,000 years of globally influential art, architecture and culture on display, this cosmopolitan city is a destination on the bucket list of many. The power of the former Roman Empire is evident through ancient ruins such as the Forum and the Colosseum. Vatican City, the heart of the Roman Catholic Church, has St. Peter's Basilica, the Vatican Museums, and masterpieces such as Michelangelo's Sistine Chapel frescoes.
Venue
via Colonnello Tommaso Masala
54 Rome 00148 Italy
+39-06-658821
Rate
120EUR/night: Single Occupancy
Book Accomodations
---
Please visit Rome Marriott Park Hotel's travel page for details on airports, shuttle service, other transportation, parking and driving directions.
Industry Leading ITAM Exhibition
TOP 5 REASONS YOUR ORGANIZATION SHOULD PARTICIPATE
5. Effectively communicate your message at a cost-effective rate
4. Quality Attendees = Quality Leads
3. Exposure to decision makers from more than 70% of the Fortune 1000 on a global stage
2. Maximize your exposure on a global scale by networking with ITAM industry experts, analysts and the media from around the world
1. Meet potential customers and reinforce existing relationships with current customersTo he
To help maximize your company's exposure to, and investment in, the IT Asset Management community, join us at the IAITAM 2017 Fall ACE – Annual Conference & Exhibition event by selecting the sponsorship opportunity that helps you to reach your desired target audience. IAITAM hosted over 1,000 attendees in 2016 from the global IT Asset Management arena bringing together the knowledge and networking our industry demands. Do not miss the opportunity to increase your company's visibility and make a lasting impression on your target audience.
This industry–leading educational event provides valuable opportunities for you to win business and reach decision makers in the ITAM community. For maximum exposure, the IAITAM 2017 Fall Exhibition Hall will be open during strategic times throughout the conference to allow for quality meeting time between attendees and vendors. Any company targeting the IT Asset Management market must attend! Contact conference@iaitam.org for more details.
TWO-DAY EXHIBITION INCLUDES
Wednesday, 13 September, the Exhibition Hall opens from 12:15pm-2:15pm for an exhibit fair luncheon then again 6:00pm – 9:00pm for an evening cocktail reception (hall floor opens at 11:30am and 5:00pm to Exhibitors)
Thursday, 14 September, the Exhibition Hall opens from 12:15pm-2:15pm for an exhibit fair luncheon (hall floor opens at 11:30am to Exhibitors)
Standard 3m x 3m exhibit space with hard wall sides and back setup, table, 2 chairs and waste can
Each Exhibitor receives 2 full passes to ACE for booth workers; Sponsorship may include additional passes, see Guide for details
1E
Absolute Software
Adisa
AER Worldwide
AirWatch
All Green Electronics Recycling
Allied
Amerishred
Anglepoint
Arrow
Aspera Technologies
Asset Management International
Asset Management Ireland
BDNA
BDO USA
Belarc, Inc.
Blancco
Blazent
Cased Dimensions
CDI Computers
CDW
Cherwell
CHWMEG
Cireson
CleanSlate
CloudBlue
CNE Direct
Comparex USA
Creative Recycling Systems
Dell Software
Deloitte & Touche
Destruct Data
Dynamic Recycling
ECS Refining
Electronic Recyclers International
Eracent
Ernst & Young
Etelesolv
eTelligent Solutions
Ex-IT Technologies
Extensis
Extreme Protocol Solutions
FileTrail
Flexera
Fruition Partners
Giga Biter LLC
Global E-Waste Solutions
Golden Ram
Golden Ratio
Guardian Data Destruction
HiTech Assets, Inc.
HOBI International, Inc.
HPE
HUGO
IMS Electronic Recycling, Inc.
Informaiton Systems Asset Mgmt (ISAM)
iQuate
Iron Mountain
ISO
IT Asset Management Ireland
IT Asset Management Solutions (ITAMS)
ITRenew
Ivanti
KPMG LLP
LabTech Software
License Dashboard
Lifespan
Linium
Liquid Technologies
Livingstone Technology
Microsoft
Miro Consulting
MobileReach
Novell
Omni-ID
Open iT
Palisade Compliance
Party of 5 Travel
PC Connection
Pink Elephant
PlanITROI, Inc.
PN California
Provance
Radiant RFID
Ray Allen
Re-Source Partners
RF Code, Inc.
RFID Global Solution
RFTrail
Rimini Street
ROUND2 INC, An Avent Company
Sage Sustainable Electronics
Sassafras Software, Inc.
Scalable Software, Inc.
Screen Connect
Server Monkey
SHI International
SIMITAR
Sims Recycling Solutions
Sipi Asset Recovery
Siwel Consulting
Snow Software, Inc.
Software Licensing Advisors Inc.
Softwaremanagement.org ITS Inc. USA
SoftwareOne
SpruceIT
StacksWare
Supreme Asset Management & Recovery
Tabernus
Technology Conservation Group
Telecom Leasing
Teraware
The ARCOA Group
Unitiv, Inc.
Universal Recycling Technologies, LLC
Vintage Tech
Waste Management
White Canyon Software
Ziften Technologies, Inc.

TICKETS NOW ON SALE!
Register today to secure your seat at the #1 ITAM Conference in the world.
Members SAVE up to 40% on a full ACE pass using their Member Promo Code. (More Details)