[cs_content][cs_section parallax="false" separator_top_type="none" separator_top_height="50px" separator_top_inset="0px" separator_top_angle_point="50″ separator_bottom_type="none" separator_bottom_height="50px" separator_bottom_inset="0px" separator_bottom_angle_point="50″ _order="0″ _label="Opening" style="margin: 0px;padding: 45px 0px 0px;"][cs_row inner_container="true" marginless_columns="false" style="margin: 0px auto;padding: 0px;"][cs_column fade="false" fade_animation="in" fade_animation_offset="45px" fade_duration="750″ type="1/1″ style="padding: 0px;"][x_custom_headline level="h2″ looks_like="h3″ accent="false"]Welcome to IAITAM CXO[/x_custom_headline][x_custom_headline level="h2″ looks_like="h4″ accent="false" class="mtn"]The World's Leading Executive Level ITAM Conference[/x_custom_headline][cs_text]
IAITAM CXO is an exclusive program comprised of C-level executives from around the world. IAITAM's focus has always been to bring real world value and solutions to organizations in the management of their IT Assets. The IAITAM CXO program brings together the knowledge and experiences from organizations around the world with proven methodology, rather than a single source of theories, that will allow organizations to mature and grow in the management of their IT Assets.
The IAITAM CXO Executive Conference precedes the general IAITAM Annual Conference & Exhibition (ACE) which is the longest running and largest conference focused on ITAM in the world, representing over 50,000 individuals from 126 countries around the globe. IAITAM CXO will focus on the emerging trends and challenges faced by C-level executives by offering real world solution alternatives in order to Align IT with your business goals.
Executives attending this premier IAITAM CXO Executive Conference will also be able to attend the 1st day of the general conference as part of their registration. Participants of the IAITAM CXO Program, receive two passes to this leading executive conference as well as a single pass to the general conference as part of the program subscription.
[/cs_text][/cs_column][/cs_row][/cs_section][cs_section parallax="false" separator_top_type="none" separator_top_height="50px" separator_top_inset="0px" separator_top_angle_point="50″ separator_bottom_type="none" separator_bottom_height="50px" separator_bottom_inset="0px" separator_bottom_angle_point="50″ _label="Upcoming" style="margin: 0px;padding: 0px 0px 45px;"][cs_row inner_container="true" marginless_columns="false" _label="New Item 2″ style="margin: 0px auto;padding: 0px;"][cs_column fade="false" fade_animation="in" fade_animation_offset="45px" fade_duration="750″ type="1/1″ style="padding: 0px;"][x_custom_headline level="h2″ looks_like="h3″ accent="false"]Upcoming CXO Events[/x_custom_headline][/cs_column][/cs_row][cs_row inner_container="true" marginless_columns="false" style="margin: 0px auto;padding: 0px;"][cs_column fade="false" fade_animation="in" fade_animation_offset="45px" fade_duration="750″ type="1/2″ style="padding: 0px;"][x_image type="none" src="http://iaitam.org/wp-content/uploads/2016/01/CXO_Logo.jpg" alt="2020 IAITAM CXO Executive ITAM Conference" link="true" href="https://ace2020.iaitam.org/cxo-conference/" title="" target="" info="none" info_place="top" info_trigger="hover" info_content="" style="max-width: 400px;"][/cs_column][cs_column fade="false" fade_animation="in" fade_animation_offset="45px" fade_duration="750″ type="1/2″ style="padding: 0px;"][x_custom_headline level="h2″ looks_like="h4″ accent="true" class="mtn" style="color: hsl(247, 100%, 24%);"]IAITAM CXO 2020[/x_custom_headline][cs_text]Executive ITAM Conference
September 8, 2020
Nashville, TN USA
Learn More About this Event[/cs_text][x_gap size="20px"][/cs_column][/cs_row][/cs_section][cs_section parallax="false" separator_top_type="none" separator_top_height="50px" separator_top_inset="0px" separator_top_angle_point="50″ separator_bottom_type="none" separator_bottom_height="50px" separator_bottom_inset="0px" separator_bottom_angle_point="50″ _label="Recent Past Conferences" style="margin: 0px;padding: 0px 0px 45px;"][cs_row inner_container="true" marginless_columns="false" _label="New Item 2″ style="margin: 0px auto;padding: 0px;"][cs_column fade="false" fade_animation="in" fade_animation_offset="45px" fade_duration="750″ type="1/1″ style="padding: 0px;"][x_custom_headline level="h2″ looks_like="h3″ accent="false"]Recent CXO Events[/x_custom_headline][/cs_column][/cs_row][cs_row inner_container="true" marginless_columns="false" style="margin: 0px auto;padding: 0px;"][cs_column fade="false" fade_animation="in" fade_animation_offset="45px" fade_duration="750″ type="1/2″ style="padding: 0px;"][x_image type="none" src="http://iaitam.org/wp-content/uploads/2016/01/CXO_Logo.jpg" alt="2019 IAITAM CXO Executive ITAM Conference" link="false" href="http://ace2018.iaitam.org/cxo-conference/" title="" target="" info="none" info_place="top" info_trigger="hover" info_content="" style="max-width: 400px;"][x_custom_headline level="h2″ looks_like="h4″ accent="false" class="mtn" style="color: hsl(247, 100%, 24%);"]IAITAM CXO 2019[/x_custom_headline][cs_text]Executive ITAM Conference
May 22-23, 2019
San Diego, CA USA[/cs_text][/cs_column][cs_column fade="false" fade_animation="in" fade_animation_offset="45px" fade_duration="750″ type="1/2″ style="padding: 0px;"][x_image type="none" src="http://iaitam.org/wp-content/uploads/2016/01/CXO_Logo.jpg" alt="2018 IAITAM CXO Executive ITAM Conference" link="false" href="http://ace2018.iaitam.org/cxo-conference/" title="" target="" info="none" info_place="top" info_trigger="hover" info_content="" style="max-width: 400px;"][x_custom_headline level="h2″ looks_like="h4″ accent="false" class="mtn" style="color: hsl(247, 100%, 24%);"]IAITAM CXO 2018[/x_custom_headline][cs_text]Executive ITAM Conference
May 7-8, 2018
Orlando, FL USA[/cs_text][/cs_column][/cs_row][/cs_section][cs_section parallax="false" separator_top_type="none" separator_top_height="50px" separator_top_inset="0px" separator_top_angle_point="50″ separator_bottom_type="none" separator_bottom_height="50px" separator_bottom_inset="0px" separator_bottom_angle_point="50″ _label="Recent Past Conferences (1)" style="margin: 0px;padding: 0px 0px 45px;"][cs_row inner_container="true" marginless_columns="false" _label="New Item 2″ style="margin: 0px auto;padding: 0px;"][cs_column fade="false" fade_animation="in" fade_animation_offset="45px" fade_duration="750″ type="1/1″ style="padding: 0px;"][x_custom_headline level="h2″ looks_like="h3″ accent="false"]Recent CXO Events[/x_custom_headline][/cs_column][/cs_row][cs_row inner_container="true" marginless_columns="false" style="margin: 0px auto;padding: 0px;"][cs_column fade="false" fade_animation="in" fade_animation_offset="45px" fade_duration="750″ type="1/2″ style="padding: 0px;"][x_image type="none" src="http://iaitam.org/wp-content/uploads/2016/01/CXO_Logo.jpg" alt="2017 IAITAM CXO Executive ITAM Conference" link="false" href="/spring-cxo-conference/" title="" target="blank" info="none" info_place="top" info_trigger="hover" info_content="" style="max-width: 400px;"][x_custom_headline level="h2″ looks_like="h4″ accent="false" class="mtn"]IAITAM CXO 2017[/x_custom_headline][cs_text]Executive ITAM Conference
May 1-2, 2017
Henderson, NV[/cs_text][/cs_column][cs_column fade="false" fade_animation="in" fade_animation_offset="45px" fade_duration="750″ type="1/2″ style="padding: 0px;"][x_image type="none" src="http://iaitam.org/wp-content/uploads/2016/01/CXO_Logo.jpg" alt="IAITAM CXO 2016 Executive ITAM Conference" link="true" href="https://business.facebook.com/pg/IAITAM/photos/?tab=album&album_id=10153411647251307″ title="" target="blank" info="none" info_place="top" info_trigger="hover" info_content="" style="max-width: 400px;"][x_custom_headline level="h2″ looks_like="h4″ accent="false" class="mtn"]IAITAM CXO 2016[/x_custom_headline][cs_text]Executive ITAM Conference
May 10-11, 2016
New Orleans, LA USA
View Photos[/cs_text][/cs_column][/cs_row][/cs_section][/cs_content][cs_content_seo]Welcome to IAITAM CXOThe World's Leading Executive Level ITAM ConferenceIAITAM CXO is an exclusive program comprised of C-level executives from around the world. IAITAM's focus has always been to bring real world value and solutions to organizations in the management of their IT Assets. The IAITAM CXO program brings together the knowledge and experiences from organizations around the world with proven methodology, rather than a single source of theories, that will allow organizations to mature and grow in the management of their IT Assets.
The IAITAM CXO Executive Conference precedes the general IAITAM Annual Conference & Exhibition (ACE) which is the longest running and largest conference focused on ITAM in the world, representing over 50,000 individuals from 126 countries around the globe. IAITAM CXO will focus on the emerging trends and challenges faced by C-level executives by offering real world solution alternatives in order to Align IT with your business goals.
Executives attending this premier IAITAM CXO Executive Conference will also be able to attend the 1st day of the general conference as part of their registration. Participants of the IAITAM CXO Program, receive two passes to this leading executive conference as well as a single pass to the general conference as part of the program subscription.
Upcoming CXO EventsIAITAM CXO 2020Executive ITAM Conference
September 8, 2020
Nashville, TN USA
Learn More About this Event
Recent CXO EventsIAITAM CXO 2019Executive ITAM Conference
May 22-23, 2019
San Diego, CA USA
IAITAM CXO 2018Executive ITAM Conference
May 7-8, 2018
Orlando, FL USA
Recent CXO EventsIAITAM CXO 2017Executive ITAM Conference
May 1-2, 2017
Henderson, NV
IAITAM CXO 2016Executive ITAM Conference
May 10-11, 2016
New Orleans, LA USA
View Photos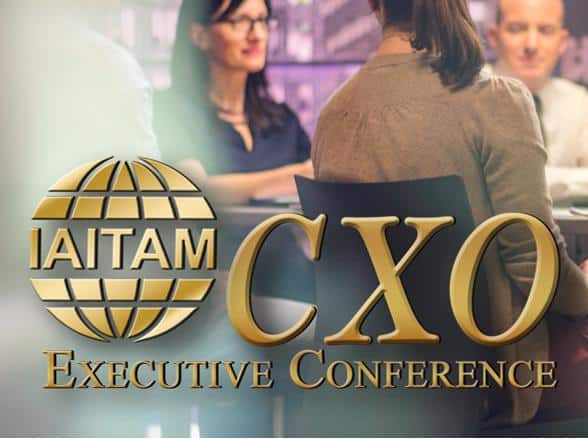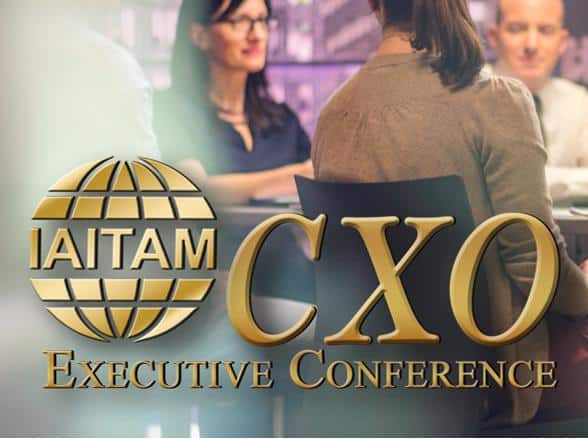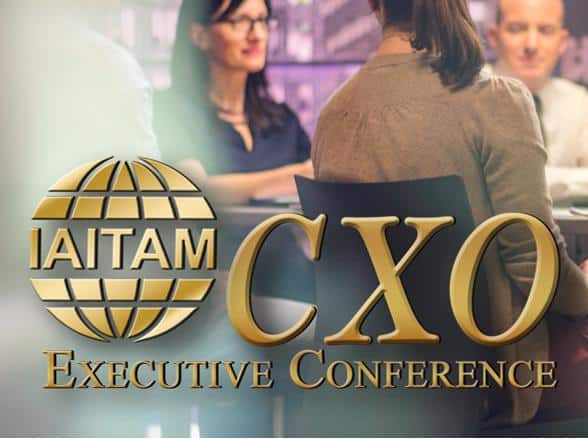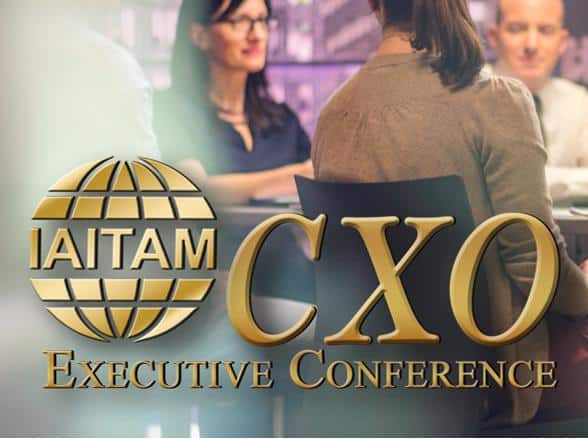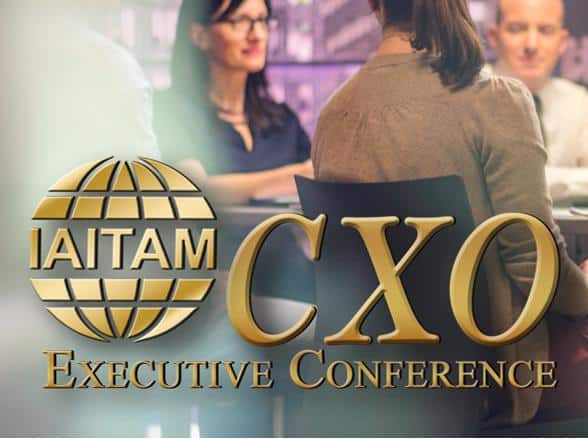 [/cs_content_seo]