IAITAM Supports Lake Township's Growth
Nestled between Akron to the North, and Canton to the South is the quiet, peaceful Township of Lake. The township is comprised of three communities; Hartville, Uniontown and Greentown.
What started 200 years ago as a settlement of Amish and Mennonite farmers raising produce for Eastern markets, grew into what we see today as a mix of both agriculture and industry.
Affordable living, low crime rates, and excellent school systems made the Lake Township a very desirable place to live, and so it remained for many years; until illegal drugs infiltrated not only the Township, but the very lives of so many people within the Township.
Sadly, the use of one drug in particular has reached epidemic proportions and that drug is heroin. It is a common practice for "dealers" to "cut" or mix the heroin with other potentially deadly drugs. The Ohio Department of Health released their annual report in August 2016 showing the death toll of unintentional drug overdoses for all drugs rose 20.5% since 2014. Drug overdoses took the lives of a record 3,050 Ohioans last year; more than one-third of those deaths are attributed the use of fentanyl, a potent yet often-toxic opiate often mixed with heroin. Statistics indicate that across Ohio in 2015, someone died from a drug overdose nearly every two hours and 52 minutes.
Once drugs enter a geographic area, usage tends to grow rapidly. That growth paves the way for even more dangerous drugs to devastate lives. One such drug was recently discovered in Stark County; that drug is Carfentanile, an extremely potent elephant tranquilizer that is deadly to humans. This drug is 10,000 times more powerful than morphine and 100 times more powerful than fentanyl, the very same drug that has caused so many fatal overdoses in Stark County and throughout Ohio for the last several years.
Barbara Rembiesa, CEO IAITAM, states that "I have always been so impressed with how this community has always pulled together whether it is to support a fallen officer's family, a community member in need, or to support our local schools. Being able to support K-9 Officer Bill's development and training to assist in the fight on drugs in our community is such an honor for IAITAM."
Necessary Weapon For The War On Drugs
The question remains, how do we stop this epidemic? This is not a situation where the drugs are easily found before or during use; as is the case with marijuana which produces a strong pungent odor easily identified by police officers and most any person who smells it.
Heroin and it derivative substances are very hard to detect by smell; unless you happen to be a well-trained canine like K-9 Officer Bill Stanios, Hartville's newest police officer.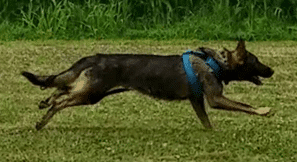 K-9 Officer Bill is a two year old German Shepard who became part of the village police department last month. Hartville has long awaited its first canine officer, knowing the many benefits of a K9 unit within the local police force.  It wasn't too long ago that an elderly man wandered away from his home in the winter. Unable to find the lost man, local police borrowed a canine from a neighboring police department; but it was too late, as the man had already succumbed to the exposure. "That was the primary impetus for a desire for the dog, so we could track people in need," said Officer Donald Worthy, K-9 Officer Bill's partner.
Police dogs not only improve relationships between the police and the public, they also possess capabilities that human officers are incapable of.  Police dogs can be trained to locate dangerous drugs such as heroin, fentanyl, and many other chemicals that are normally undetectable by humans.
This is the start of what looks to be a very happy story for Lake Township, yet there is the matter of funding for this program. The Mayor and the Hartville Village Council agreed to establish the K-9 program with the stipulation that the entire program must be funded entirely through private donations, using no income tax dollars.  The council estimated a cost of $75,000 for an eight year period to cover all program needs.
The Community Donates
The local community stepped up to supply many of the immediate needs. Canton Canine Unit Police Department is supplying the necessary 14 week training program free of cost; Frost Kennels donated K-9 Officer Bill to the department (the dog had been listed for sale for about $8,000); a local vet has donated medical services; Kids Country, a child care center, is selling plush "Bills" (miniature German shepherd stuffed animals) for $20. The business plans to raise $10,000 for the K-9 program through the sales of those stuffed "Bills".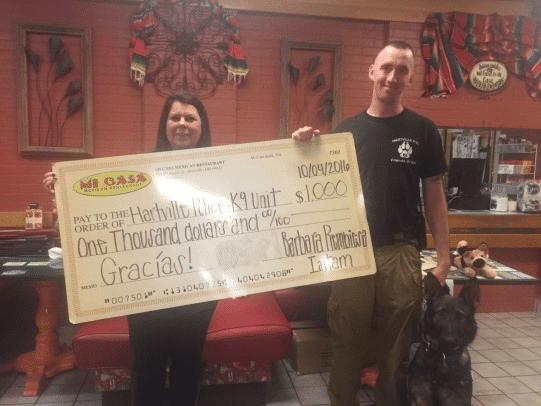 Donation cans are already in place at several local businesses.  Donations can also be made at Village Hall, 202 W. Maple Street, or at Consumer's Bank in Hartville.  We are reminded that donations toward the K-9 program are tax deductible.
Other local businesses such as Schoner Chevrolet and Mi Casa restaurant are hosting fundraisers for this wonderful and necessary cause. Schoner Chevrolet collected donations at their annual car show Saturday August 13th where officers Bill Stanios and Donald Worthy served as judges for the event.
More recently, Mi Casa restaurant in Hartville hosted a fundraiser on Tuesday Oct 4th "Dine to Donate" in support of the program.  There were "Friends of Bill" T- shirts, "Bill" plush dolls, and of course, the excellent food and friendships that are always found at Mi Casa restaurant!
IAITAM joined Mi Casa at the October 4th "Dine to Donate" to present a check to Officer Donald Worthy for the purchase of K-9 Officer Bill's life-saving bullet-proof vest. Barbara Rembiesa, CEO IAITAM, states that "the importance of this equipment cannot be overstated when reflecting on the murder of a Canton Police K-9 officer who was shot and killed by a burglar at a Fishers supermarket early in the morning on January 9, 2016."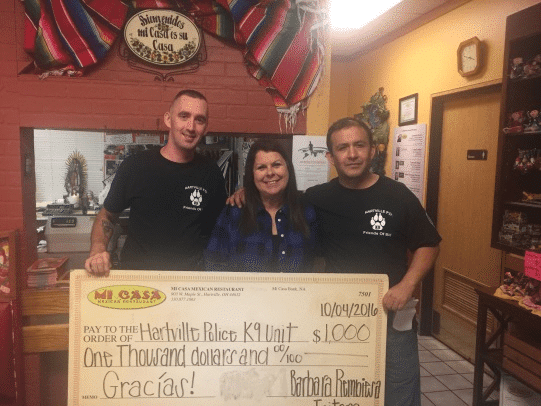 K-9 Officer Jethro was sent in to subdue the burglar, but he did not have a bullet-proof vest that may have saved his life. Donors and donations from Mi Casa restaurant, IAITAM, and the supporters of "Dine to Donate" will ensure K-9 Officer Bill has the proper safety equipment to lessen the possibility of injury or death in the line of duty.
As we continue finding ways to fund this worthy cause, we must give thanks to all those who have already donated, and to all who continue to donate; we need a K-9 officer on the force, now, and for the future of a safer Lake Township.