New Rules for a Post-COVID Landscape: ITAD Tips for Remote Workers
Back in February, a joint report between Global Workplace Analytics and Flexjobs, a company that specializes in helping employers find telecommuters, found the number of remote workers in the U.S. increased by 159% between 2005 and 2017. In just the past five years, remote work has increased by 44%. This was already a rapid increase, but now with the unexpected and tragic events of the COVID-19 pandemic, we are faced with an almost instant exponential growth to that figure. As of May, about ⅓ of all Americans found themselves working from home. This leads to one big question: what happens to tech equipment that's outlived its lifespan? How do companies dispose of electronics that are in locations other than the office?
ITAD can seem like a complex matter. It's made more difficult as different states have different rules. Some states lack any rules regarding electronics recycling. If you have workers scattered across the nation, each one may have specific criteria that have to be followed. Those rules may not be enough to meet your company's goals for privacy and data security. Here are five tips can help you get a better idea of how to handle IT asset disposition for your satellite offices and remote employees in a manner that is both sustainable and secure.
1–Pay Attention to the Laws
Keep track of where your workers live and read up on the state laws and regulations for electronic disposal. For example, workers in Florida will find there is no Florida e-waste program. In California, people pay a fee when they buy electronics and that money helps pay for e-waste recycling. As a result, workers in California may have an easier time accessing a place to drop off electronics for recycling than someone in Florida would.
This makes it easy for some of your workers to place their unused electronics in e-waste bins in their city. Others may not have a place they can go, so they'll need your help getting rid of electronics that are past their usefulness.
2–Maintain an Inventory of All Electronics Being Used in Remote Offices
As soon as anyone in a satellite office or home office brings home office electronics, you need to keep an inventory of those items. Note the serial numbers, make/model, what it's for, and who has it. If the purchase of new items is necessary, do the same with those new items. You want an updated listing at all times. That way if anything goes missing, you know who had it and what it was for. You may even be able to take measures that cut access to the device if it is reported as stolen.
When it's time to recycle electronics on that list, you want to track where each item is. You don't want employees trying to sell items on their own. Without proper data destruction, that could put private information into the wrong hands. It is important to have a secure chain of custody that allows you to track the electronic assets as they leave the remote or satellite office and see where they are in the process of destroying data, shredding the device, and properly recycling the glass, plastic, and metal components.
3–Make Sure Items Don't Still Have Value
Your employees may not know how to fix electronics. An item they feel is past its usefulness may just need some software reinstalled or to have a part replaced.
ITAD companies can help you determine the value of your items and recover some of the value in order to purchase new electronics.
4–Create a Strict Policy for Deleting Data and Disposing of Unneeded Electronics
If you already have a policy for data security and electronics disposal, make sure employees know they must follow those same rules at home. Get a copy of your policy to every employee who is working from home and make sure they read and understand your rules.
You need to carefully list the requirements. If you're using an ITAD company that offers a box program for secure home and business recycling, provide instructions on how employees are to order and use those boxes.
5–Choose a Reliable ITAD Provider
Partner with a reliable, qualified ITAD provider. Look specifically for an ITAD expert that holds certification from NAID, R2, and e-Stewards. This will help to guarantee that data is destroyed properly before anything else happens. You also want to make sure the recycled electronics are not shipped overseas or illegally dumped in the landfill.
Ask if there is a way to track the electronics on the way to the facility. If there isn't, choose someone else. And of course, look for a comprehensive service that ensures your electronics are recycled following all laws and regulations.
Also, if at all possible, do an onsite audit visit to the facility yourself, because nothing beats seeing a facility in person.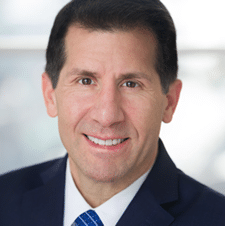 As co-founder and Executive Chairman of ERI, John Shegerian led the company to its current standing as the largest fully integrated IT and electronics asset disposition provider and cybersecurity-focused hardware destruction company in the US.