Principles for Integrating ITAM with wider ITSM initiatives
Is your organisation continuing to invest in separate IT Asset and IT Service Management ("ITAM" and "ITSM" initiatives)? Do you have separate toolsets serving both these functions with little to no data integration and data transfer between these? Do you have a constant "battle" between these teams with regards to the accuracy of data collected and reported on from these? Have you considered the benefits of integrating these two initiatives? If not, you should!
Historically, IT Service Management ("ITSM") and IT Asset Management ("ITAM") initiatives have been managed, often in silos, by separate teams within a business. It has also proven difficult to integrate these in the past due to the following:
Different reporting lines to Executive level within the business for these teams and subsequently separate budgets and differing goals;
Tool driven approach for traditional IT infrastructure and desktop support teams vs a Data-driven approach for many Asset Managers;
Reactionary approach to Service Management vs planning and risk mitigation approach to ITAM;
A survey conducted by the ITAM Review found that the ITAM/SAM function within an organisation can reside within a range of business units, and therefore have different reporting lines to "C-level" as shown in Figure 1: Reporting lines for the ITAM organisation.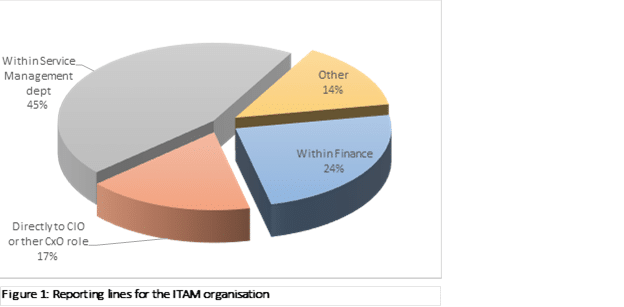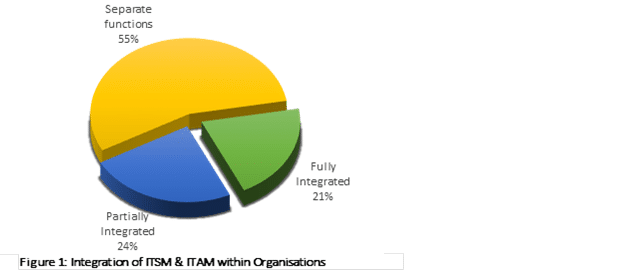 While residing in different departments can present challenges, the level of integration between ITAM and ITSM initiatives is a more relevant question. When questioned about this, organisations provided the responses shown in Figure 2: Level of integration between ITAM and ITSM in organisations.
What are ITAM and ITSM
Information Technology Infrastructure Library (ITIL) defines SAM as "…all of the infrastructure and processes necessary for the effective management, control and protection of the software assets…throughout all stages of their lifecycle."
ITSM is a broad set of activities, policies and supporting processes to support planning, controlling and delivering IT services to business customers. A mature ITSM strategy has a Configuration Management Database ("CMDB") at its core. The IT Asset Register is a key input to the CMDB.
SAM/ITAM is focussed on TCO, ROI and efficiency… and so is ITSM, demonstrating a natural business synergy between the two.
Both ITAM and ITSM programmes are better enabled by People, Processes and Platforms (tools/technologies). All three need to be in place and optimised to achieve the desired level of integration and automation.
ITAM and ITSM Service Architecture
ITAM consists of several processes to ensure management of an asset's lifecycle. These may be broken into "Primary" and "Supporting" processes shown in Figure 3: Business processes within ITAM: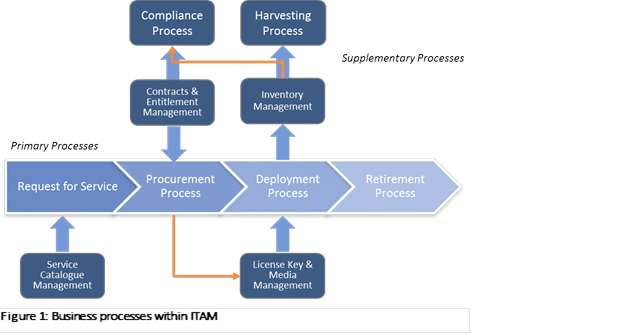 The purpose of this article is not to delve into these processes in detail. However, the efficient delivery of some of these key business processes; Request for Software, Harvesting, Inventory Management & Retirement are heavily reliant on strong IT Service Management capabilities. If assigned and deployed asset information is readily and accurately available in the Service Desk solution, end user support is invariably going to improve.
Integrated ITAM and ITSM programmes, therefore provides a logical initiative for organisations looking to increase their SAM/ITAM maturity. Why implement and maintain two distinct platforms for the Asset Register/Database and the Enterprise CMDB if these can be combined into a single solution?
Fundamental to ITIL and ITSM is the implementation of an enterprise Configuration Management Database ("CMDB"). The CMDB should provide the definitive source for all IT information to deliver IT Service Management. As the IT Asset register is a key input to its development, the incorporation of an enterprise CMDB, therefore becomes a critical element to the realisation of an integrated programme of works for ITAM and ITSM. This is depicted in Figure 4: ITAM integrated with ITSM.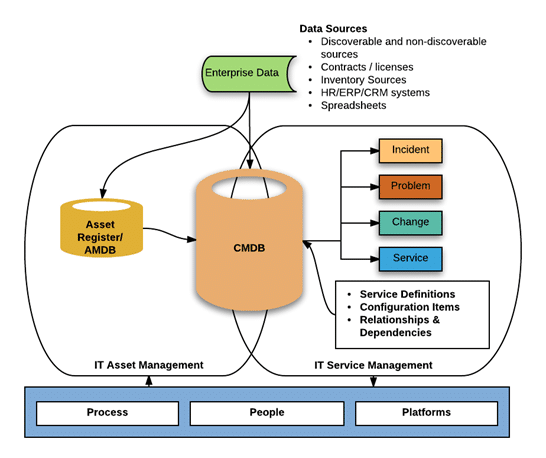 Figure 4: ITAM integrated with ITSM
Most organisations have some register of their IT assets. This may be in the form of historical spreadsheets, an existing discovery and inventory tool or other system within the estate. As such, these can form the initial data for the development of the enterprise CMDB.
The delivery and management of IT services within an organisation may be broken down into 3 tenets:
Demand Management. How users request services within the business, covering request for service and procurement processes.
Provisioning. How these services are provisioned to the end users, covering deployment tools and user provisioning and management.
Monitoring and Optimisation. How assets, service and compliance are managed on an ongoing basis through their lifecycle. This covers Inventory and discovery, compliance management and retirement processes.
What is the common theme here? All of these require a combination of IT Asset and Service Management concepts to deliver efficiently. Without knowing what you have available, how can you deliver a new piece of hardware to a user within your organisation? Without knowing which department a user is part of, how can any departmental cross-charging be achieved? Without understanding the usage profile of key software within the estate, how can the organisation target any software license reclamation activity?
Selecting the appropriate tool/s:
As processes and aims are better defined, the selection of the appropriate "Platform/s" or Tool/s should become a focus. Where possible, the number of platforms in the estate with overlapping functionalities should be minimised. As such, consider some of the following requirements:
CMDB. The platform should enable the development and creation of an enterprise CMDB. In order to achieve this, it must be able to capture and report on hardware and software inventory information, user data, financial & contractual information, geographical information and the relationships between all of these where relevant. It must also be able to consume data from multiple sources with the ability to merge duplicate records from differing sources where relevant. Finally, this CMDB should enable to collection and reporting of all historical data and changes to assets within the database.
Self-service. Will the selected solution allow you to deliver end user self-service capabilities within your organisation? If your Asset Register and/or CMDB is populated correctly, can this information not be leveraged to allow end users to realise a similar experience to personal online shopping when requesting services from their IT organisation?
Integration and Automation. Organisations that realise the greatest benefits from their ITSM and ITAM programmes have achieved this through the integration and automation between the various technologies within their estate. A workflow and automation solution should be part of the roadmap to ensure these aims can be realised in the medium-long term.
IT Analyst experience. Where an IT analyst's involvement is required for the delivery of services, the selected platform/s should ensure their user experience is as engaging as that of the end user. If the end user and IT analyst experience can be delivered in one solution, this is even more desirable.
Track usage and utilisation. In order to optimise your Asset allocation and utilisation, monitoring of the use of these is key. Software license reclamation (harvesting) is dependent on having this information present.
Multi-device and web friendly. If the IT organisation can enable the end users to request services from it from any device and any location, business engagement with IT can only be engendered and developed.
Role based access to a "single pane of glass". Can all the information to deliver ITSM and ITAM be consumed in a single solution? If so this is ideal.
Summary
Organisations with the greatest ITAM and ITSM maturity levels have strong integration between people, technology and processes.
Achieving this requires a phased, goal-driven approach founded on strong business processes and tools. Once these foundations have been laid, greater levels of maturity may be achieved as highlighted in Figure 5: Stages to maturity in ITAM & ITSM below.

Figure 5: Stages to maturity in ITAM & ITSM
Accurate discovery is vital to the establishment of a CMDB and therefore the integration of ITAM into a broader ITSM initiatives. How can you join the dots without knowing what the dots are in the first place?
Processes. Everyone has a process for doing things. Often with regards to ITSM and ITAM these aren't formalised and documented. Attempt to map the current, "as is" processes. Ensuring a baseline is readily available should ensure that review and process improvement should be easier in the future.
Platforms. Tool based inventory should provide the easiest means of creating an Asset Registry- the number 1 pre-requisite for a CMDB. Find out what other data sources you may have including historical asset data in spreadsheets and tickets in your Help Desk solution.
People. Define what your requirements are, particularly around SAM compliance management. Which vendors do you need to manage within the estate (risk vs reward). Compliance management for different software vendors requires a deep understanding of their licensing models and rules. Do you have the necessary skills in house?
Integrating ITAM/SAM into a wider ITSM strategy is undoubtedly a challenging task. As such, the best way to achieve this is by breaking this down and taking forward as 'time-boxed' work-packages. However, the benefits of integration are clear. Where the correct processes are defined, the appropriate platforms are implemented and integrated, and the right people within the organisation enabled, significant efficiencies can be realised in the end to end lifecycle management of assets and the services delivered to the organisation by IT.