What A Vendor Manager Should Look for in a Provider
IAITAM's IT Asset Management best practices outline an extensive and detailed acquisition process that starts with an end user's need and only stops when the asset's disposal documents are in hand. That process includes identifying the ideal tool or service provider, and that decision is based on much more than the lowest price or the most charming promise. Reputation, relationship, and reliability, the three "R's" of vendor value, summarize what every practitioner should look for in a provider.
Look for a Solid Reputation
Deducing a provider's reputation requires a little detective work. In addition to doing research online, an effective Vendor Manager should also "ask around." There is a global network of IT Asset Managers out there, and access to it is easy at one of IAITAM's road shows or at the IAITAM Annual Conference and Exhibition (ACE). IT Asset Managers should take advantage of any networking opportunities, whether face-to-face or online, for advice on any ITAM subject.
Many questions are appropriate to ask of someone familiar with the provider. Some include:
Does the vendor have quality products / services?
Are the prices fair?
Is there consistent communication?
Are they trustworthy?
Are there discounts?
How is the customer service?
Each practitioner must earn its spot on the approved vendor's list and that does not happen if it or its products are perceived negatively by the ITAM community.
Look for a Healthy Relationship
Relationship management begins with the first phone call between the vendor and the Vendor Manager of the Asset Selection Committee. First, second, and third impressions matter. Interactions should be cordial and professional and if they are not, that is something a practitioner should note. The relationship is built on trust and mutual respect. If either aspect is missing, the relationship will not thrive.
A relationship is over before it begins if the vendor refuses to accept the organization's vendor policies. Such a document should contain, based on the practitioners' needs and custom desires, fixed explanations, rules, and boundaries between the organization and the provider:
Contact information. Contact between vendor and practitioner should be restricted to one individual or team. This section should include the name, number, email and any other information for the contact.
A clear explanation of business goals. The vendor can best serve its customer if it is aware of its customer's needs.
The vendor policy document should clearly state the organization's expectations as far as schedules and deadlines and any other responsibilities. It is polite but not required to include the vendor scorecard criteria, as outlined later in this article.
It should be clear to the vendor that there are processes to go through in order to finalize a sale. They might expect everything to be taken care of in one meeting if they are unaware of ITAM best practices regarding the acquisition process.
Documentation. Proper IT Asset Management may require more documents than the vendor is used to.
There is one more relationship to keep in mind when it comes to picking a vendor and that is the ITAM program's relationship with the end user. The worker at a desk in the organization receiving a new office suite or a new hard drive should be able to depend on ITAM practitioners finding the best vendors with the best products.
Look for Consistent Reliability
These are some of the questions a Vendor Manager should ask:
Have the vendor representatives shown up to every meeting or phone call on time and prepared?
Is the documentation accurate?
Do they have a return policy if the assets are defective?
Do they comply with the law?
Do they agree to perform maintenance?
Is the information on the purchase order correct?
If the answer to any of these questions is "no," then the vendor might be unreliable. If the vendor is unreliable then it is likely their service or product is unreliable as well. Reliability goes both ways. If the ITAM team expects the vendor to be reliable then they must be reliable as well. They should also be on time to meetings, comply with rules, and provide accurate documentation.
Vendor Scorecard
There should be an internal report if the organization has worked with the vendor before as an active provider. That grading method can come in any form, but IAITAM recommends using a scorecard. Every organization should create vendor scorecards to grade each provider with whom they interact. Scorecards help the organization monitor the vendor's actions. There is no one way to create a vendor scorecard because each organization must customize it to their needs. What is right for one organization may not be for another. There are several options to be measured, but not all of them should be. Too much data complicates the process.
There is a way to quantify all of that subjective information if the organization chooses. This can be done by creating a simple scale, if an organization determines it to be appropriate for their needs and chooses to use it. There are dozens of possible criteria to assess. Here are a few for example:
Vendor Scorecard: 1-5 scale (one being the worst, five the best)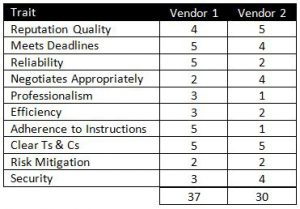 In this example, based on the data available, vendor 1 is clearly the better choice. Qualified data transformed into quantifiable data is a bonus of the vendor scorecard. Practitioners should have their scorecards on hand during every vendor interaction.
Note that the traits can be weighted as necessary. For example, if risk mitigation were more important than negotiation then doubling the number would equal more weight. Additionally, organizations should be sure to have more than one person evaluate the vendor. More than one perspective of the Asset Selection Team can only help the scorecard's accuracy.
Acquisition Management is one of the IAITAM Key Process Areas. It is the "gatekeeper" of the IT Asset Management program. No acquisition gets through the gate without going through the proper management. There is also a gate between sale of the asset and the vendor and the Vendor Manager is the gatekeeper there. With their research into reputation, stability of relationship, and evaluation of reliability, the IT Asset Management program and the rest of the organization are assured that the assets coming in are from the very best vendor.
References
[1] Managing the Fine Print – Working with Terms and Conditions, Bruce McDowell, 24 Mar. 2016,
https://itak.iaitam.org/managing-fine-print-working-terms-conditions/
[2] 13 Free Vendor Templates, Smart Sheet Staff, Undated,
https://www.smartsheet.com/free-vendor-templates
[3] Tips on Maintaining Good Vendor Relationships, Nicole Marie Richardson, 23 Feb. 2011,
https://www.inc.com/ss/tips-on-maintaining-good-vendor-relationships
Get the latest Industry News in your inbox every week!