Why Digital Transformation makes ITAM more important than ever
Digital transformation is not just hype. Across every sector, a revolution is happening. Long established companies are finding their long-term business models disrupted by new upstarts and new practices, and the results have been dramatic. In the three months to June 2015, Uber overtook traditional taxis as the USA's most expensed form of ground transportation. AirBnB is less than a decade old, and owns no physical inventory, yet its valuation now exceeds that of the entire Hilton hotel group. In the UK, Dominos Pizza has become an e-commerce giant, shifting its entire business methodology away from telephone and walk-ins. It now takes 80% of its orders online or via its mobile apps.
Dramatic changes are happening in the workplace too. The very nature of the datacenter is changing, not least because of the public cloud revolution led by Amazon. Employees and their customers, whose personal lives are enriched by highly usable applications running on the powerful computers in their pockets, are seeking the same quality of experience in the workplace. This article will explore the evolving role of IT Assets in this changing landscape of digital services, and set out a strategic approach to managing them. To do this, we need to consider what a digital service actually looks like.
What is a Digital Service?
Digital services provide a modern, consumer-like experience at the front end, underpinned by industrial automation at the back end. Consider the action of selecting your seat on an aeroplane: Most airlines now offer a simple-to-use mobile app, which will reserve your seat, update your booking, reissue your boarding pass, and perhaps even debit your card. For you, as the consumer of that service, the entire action is completed with a single, simple click. Behind the scenes, however, dozens of individual computer systems, applications, services and integration have interacted to deliver that service.
You have probably just touched CRM systems, billing systems, reservation systems, travel agency brokerage systems, accounting systems and more. Still more systems will be involved with the logistics of actually loading and flying the plane. Some systems may have been provisioned specifically to run your workload, while others might have been uninterrupted for decades. You have just interacted with everything from the most modern cloud technologies, to long-running mainframe systems (many of which still underpin the travel industry). Digital Service at the Frontline An ever increasing number of digital services are focused not on the organization's backend technical infrastructure, but on the frontline of business itself.
For Dominos pizza, digitalization of the consumer experience puts new IT assets into every store, connected to new backend infrastructure in the datacenter. The digital underpinned by these assets is a key strategic differentiator for Dominos: aiming to achieve competitive edge to drive growth in a highly congested marketplace. For the airline, digital services are designed to automate customer transactions at huge scale. This gives the customer a better experience, but it also saves money and brings in new revenue opportunities. For sharing economy upstarts like Uber and AirBnB, digital services are the business. What this means is that the cost of providing a service has never been brought more sharply into focus. IT organizations are no longer expected simply to provide a cost-effective technical backbone for the business. They are intimately embedded in the profit-and-loss of frontline services.
As a result, there is a broader set of financial stakeholders, with more specific objectives. Perhaps the money for a new service has come from the Chief Marketing Officer, rather than from IT's budget. Here's the important thing: A significant part of the cost of each digital service arises directly from the IT assets that underpin it. The proportion of costs attributable to IT assets will vary from business to business and from service to service, but for the most automated, digital services, it's easy to envisage it being the biggest cost. Here's a conservative illustration: Imagine a business makes $100 in revenue for every $80 spent running a digital service.
In breaking that cost down, let's assume that $15 is staff wages, $5 is marketing, $15 is fulfilment, and $25 is stock. The remaining $30 comes from the cost of the IT Assets underpinning the services. If the IT Asset manager can find a way to save 10% of the Asset cost attributable to the service, then the service's gross margin just improved by three points, from 20% to 23%. That's the kind of shift that might make the Chief Marketing Officer sit up and take notice.
New technologies mean new practices Success came so quickly to many of the new digital upstarts that the use of traditional server infrastructure was simply impossible. Expanding physical datacenters takes time, costs big money, and inevitably results in periods of excess spend: capacity has to be paid for even if it has not yet been grown into. The rapid digital growth of the new disrupters was built on public cloud services. Even in established enterprises, the same challenge exists. Most large enterprises are now using some mixture of physical infrastructure (often supporting increasingly sophisticated virtualization) and public cloud instances. The take-up of public cloud varies by sector and geography, but "hybrid cloud" infrastructure – a mixture of public services and dynamic virtualized physical infrastructure – is now common in most industries.
In the wider business, the impact of the "Internet of Things" is truly starting to be felt in enterprises. Gartner predicts that there will be 20 billion connected devices globally by 2020. Increasingly, digital technology is appearing in new areas of the business, often outside the traditional responsibilities of IT. Nearly every aspect of the supply chain, corporate infrastructure, and workplace is being digitalized. The risks, costs and support challenges presented by connected devices like this are very familiar to IT asset managers, even if they are not as obvious to the new adopters throughout the rest of the enterprise.
Regulatory challenges like HIPAA in healthcare, and PCI in retail, apply just as much to a new "IoT" gadget as they do to any other computer system in the business. The Service Desk, traditionally geared up to support PC-based infrastructure, may find itself taking calls about the new smart forklift in the loading bay. A digital service might be just as dependent on a new sensor device as it ever was on its underpinning servers. The Internet of Things is also a software revolution, perhaps more than it is a hardware revolution. In fact, much of the hardware underpinning these new devices is built using unremarkable commodity components, often derived from smartphone technology. It is the software that differentiates, and software needs support, patching, maintenance and sometimes licensing. Fast vs slow, service vs individual
The rapid evolution of the digital enterprise does not make existing IT asset management challenges and methods go away overnight. The PC will still be a huge part of business for many years to come. Existing servers will still be in place for at least the current lifecycle phase of the services they underpin. ITAM is still vital for these "traditional" devices. However, ITAM teams also need to recognize and publicise the importance of effective management of the new technology stack. To do this, we need to consider how to deal with new classes of Asset. IT Asset Managers need to spend some time evaluating the technologies, old and new, which underpin their digital services. This requires a lot of interaction with technical teams, many of whom are managing new technologies that have not yet widely been managed as assets. The history of technology innovation in the enterprise, shows us that specialist technical teams often become "asset managers" within the silo of their own technology. They know their technology better than anyone.
It is vital for IT Asset Management teams to bring these teams "into the fold", and to learn from their specific expertise. It's also important to remember that established "discover and reconcile" practices remain hugely valuable, particularly for assets that can reasonably be expected to be in place long enough to be seen. These "slow" assets probably still make up the majority of the asset base, and can still be managed in this way. However, one key challenge is the speed at which "new stack" assets can be made to appear and disappear. This has always been a risk with virtualization, but modern cloud services (and in particular emerging "containerization" technologies such as Docker) mean that asset instances can come and go faster than ever. This presents a paradoxical challenge for IT asset management, particularly in terms of tooling. Automated discovery technology has been the backbone of many ITAM teams' toolsets for years, and hybrid cloud makes the use of sophisticated discovery more important and valuable than ever (particularly where the tool can do effective dependency mapping). However, cloud instances are now so dynamic that they may have appeared and disappeared before a discovery tool ever sees them.
A Docker container can start and stop in seconds. This can be a big problem if, for example, this behaviour generates untracked software license consumption. To address this, Asset Managers need to identify which asset classes in their organisation are "fast" assets, and which are "slow". The slow assets are those which are static enough to be managed reactively via discovery. For the fast assets, new methods may need to be found. Are cloud instances being provisioned and deprovisioned, anywhere in the enterprise, at a speed that is likely to elude your discovery tools? And, importantly, does it matter, from an ITAM point of view? If so, you need new collection methods (for example, some cloud provisioning tools are able to create Asset records at the point of instance startup). A second important variable about each Asset class is the business context.
If service cost is a big focus, then understanding the context of each asset becomes more important. Data about the relationships between these assets become as important as the assets themselves. However, many assets don't have a service context: it is unlikely (albeit not impossible) that an individual employee's PC is going to be regarded as contributing directly to the cost of a frontline business service. For these assets, the context is the individual, rather than the service. Once again, these devices are unlikely to require much change to existing practices and tools. By classifying each asset type in terms of these two variables… "speed", and business context, the appropriate management process and tooling can be developed for each.
ITAM's great opportunity
We are in a period of great transition across established industries. As "software eats the world", every company is having to become a technology company. This is a huge opportunity for ITAM professionals to bring their expertise and experience to the fore. To take this opportunity, IT asset managers need to gain a wide technical understanding the transformation taking place in the technology stack itself. And, importantly, we need to work with our enterprises to understand the new business challenges they face in the digital era. IT assets have never been more fundamental to the future of our industries. It is up to us to show how much new value ITAM can bring.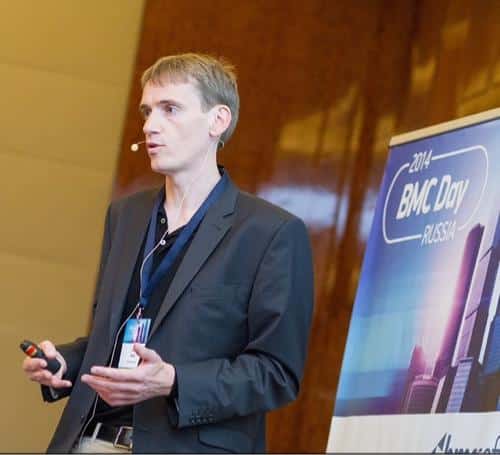 I am a member of the BMC Remedy product management team, and lead on several products including BMC Remedy Asset Management Other experience in ITAM industry: 18 years in ITSM, CMDB and ITAM. Many years working in the field on major projects at blue-chip clients. Speaking experience: IAITAM ACE (2012, Palm Springs), IBSMA SAM Summits, ServiceDesk and IT Support Show (14,15), Tomorrow's Future Today, and many other events.