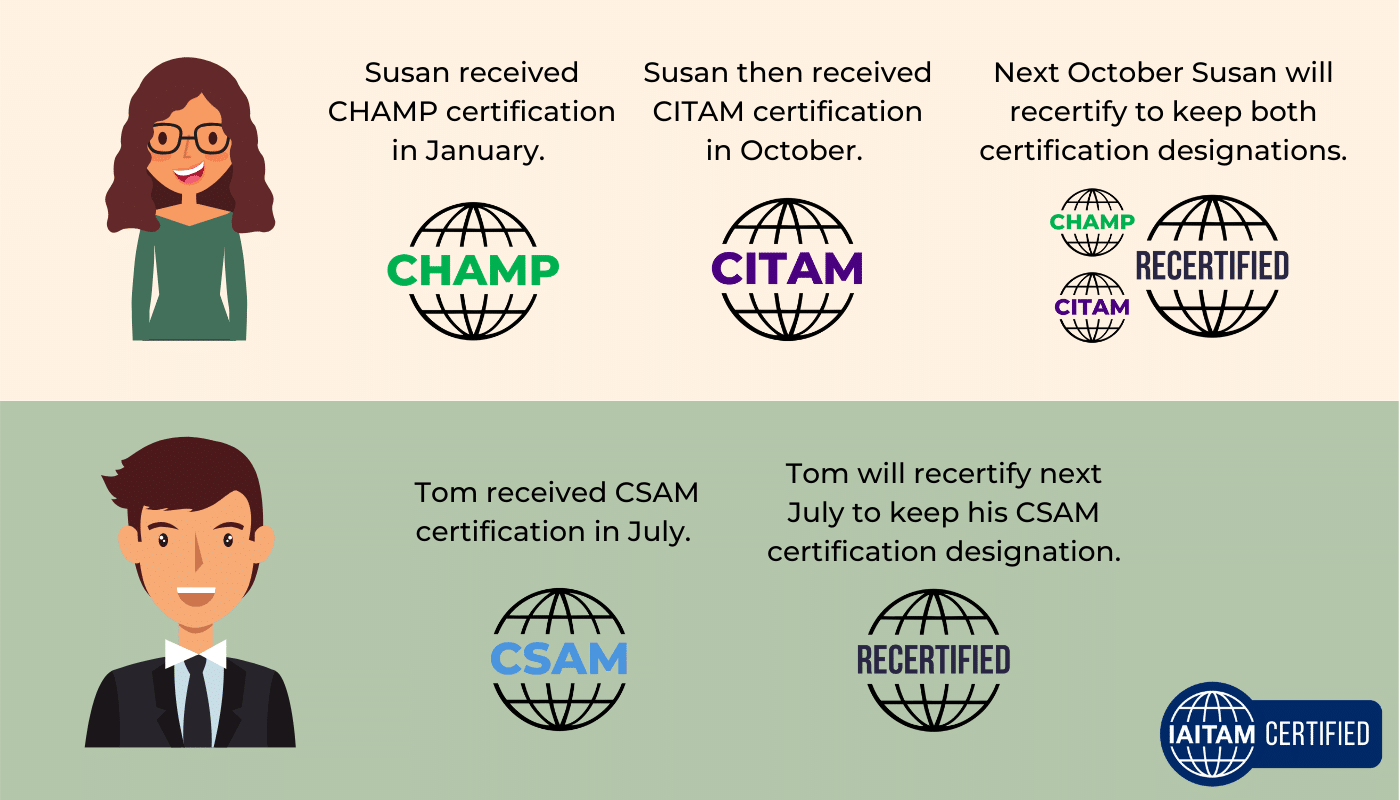 The IAITAM Recertification helps you keep your CAMP, CHAMP, CSAM, CITAD, CMAM, CAMSE, and/or CITAM designation current!
As a certified professional in IT Asset Management you are recognized as a leader, both within your organization and the ITAM industry. You have differentiated yourself by acquiring industry specific education and are committed to continuing your professional growth.
Recertification allows you to retain the right to use your certification designation. Only current certifications will be extended through the Recertification program. Recertification is required by the anniversary date of your most recent certification or recertification and keeps all your IAITAM Certifications current. If you have multiple certification designations, just one recertification keeps them all current.
Download the IAITAM Registration Form for all pricing or to place an order via fax or email
Recertification Process
Once you have purchased your recertification exam, access to the exam will be granted 30 days before your recertification due date. To find that date, please login in to your IAITAM account and click on "My Account". IAITAM makes every attempt to notify Certified Individuals when their Certifications are due to expire, however it is ultimately the responsibility of the Certified Individual to track their Certification dates to ensure they are renewed in a timely manner. Please note that if you receive a new IAITAM Certification designation, your new recertification date will be a year from that point.
The Recertification exam consists of 20 questions pulled randomly from a database. A score of 100% is required to pass the exam; however, you get unlimited attempts with no time limit (within the 30 calendar day window).
If you are unable to complete the Recertification exam within your 30-day window, a one-time 30-day extension can be purchased. This must be purchased before your original 30-day window expires.
What if my Certification does expire?
Certifications expired within the last six months can be renewed by retaking the certification exam at regular price (no member pricing). Certifications expired for more than six months can be renewed by retaking the full course and passing the exam. Member pricing can be utilized.