CSAM: Certified Software Asset Manager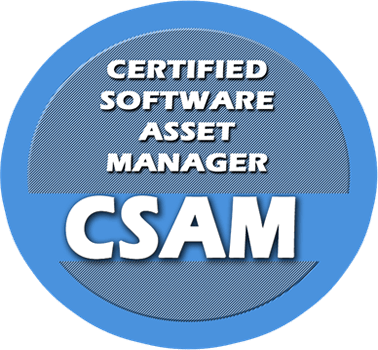 ---
COURSE SUMMARY
The IAITAM Certified Software Asset Manager ("CSAM") Course provides a foundation for managing software assets as well as knowledge of the ever-changing variables that occur within the field. From software piracy and compliance issues to legislation and organizational challenges, it is necessary to evaluate both the external and internal forces that are bringing changes to how organizations manage their IT Assets. A successful Software Asset Manager must look at the overall goals of the organization and determine where Software Asset Management can play a strategic role in achieving those goals.
In this course, students will learn best practices in Software Asset Management, the when and why to question why something should or should not be done, how to clearly identify goals and how to quantify success. Software Asset Management ("SAM") is the set of business practices that support the use of software within an organization and frequently involves a new look at how and why software traverses the organization. SAM is now considered a mandate by many organizations who look at their Software Asset Managers as key contributors to overall organizational goals such as reducing risk, increasing accountability, uncovering savings and gaining control of the IT environment. To be successful, Software Asset Managers must learn what constitutes the business best practices of Software Asset Management and how to implement those business practices in a way that is appropriate for their organization.
View CSAM Certification Calendar of Events
REAL WORLD ASSET MANAGEMENT
The CSAM course represents the culmination of ever changing software information, laws and regulations as promulgated in the past and directs focus to the new standards covering software applications and the severe detriments of not being aware of and adhering to current and proposed regulatory mandates.
Attendees will learn the importance of Software Asset Management in today's dynamic ITAM environment. Never before has it been so important that there be at least one individual in an organization whose focus and training is devoted specifically to software management and the long term value and benefits derived from that knowledge. It all begins here with the CSAM course of instruction and certification designed to be a core foundation builder to any ITAM program.
The CSAM Program itself was and continues to be developed by professional Software and Hardware Asset Managers to codify a number of existing IAITAM professional development programs. The Certification in Software Asset Management as produced by IAITAM has evolved over the past 10 years to encompass the changes in the profession as well as adding notable credibility to any organizational IT Asset Management Program and individual.
The two-day CSAM course of instruction and its subsequent Certification test is designed to guide individuals within the profession to gain awareness of existing software regulations, the importance of adhering to the regulations and how those regulations have an effect on every aspect of current and future business endeavors. Additionally, the attendee will learn the importance and the steps necessary to achieve a proactive stance when dealing with software compliance.
With instruction focused on Communication and Education, Policy, Procedures, Project Management, Software Assets and Compliance Management, the CSAM instruction and related materials will bring to light the importance of a well planned and executed Software Asset Management Program.
This interactive instructor led course, whether taken in an in-person venue or through online instruction, will allow ITAM professionals to review existing organizational infrastructure to effectively enhance any Software Asset Management Program – one that meets global expectations.
CSAM, as with all of IAITAM's courses, conveys the same primary goal of educating IT professionals in effective asset management, automation and centralization, which equates to a higher return on investment (ROI), compliance risk mitigation and increased overall productivity.
WHERE TO START: LET CSAM GUIDE YOU
This course exposes the attendee to numerous concepts for ITAM that are relevant for both direct application and as a means of discussion for those persons who will implement, manage and direct ITAM initiatives for their organizations.
The CSAM course consists of the following components:
CSAM Course Manual
CSAM Study Guide
CSAM Course Presentation Slide Book
CSAM instructor daily presentation and interaction with attendees – administered in-person or online
Optional CSAM Comprehensive Online Examination necessary for achieving CSAM Certification
WHO SHOULD ATTEND
The two-day CSAM Course is designed for those individuals with minimal to no experience in the field of Software Asset Management. It is essential learning for beginning IT Asset Managers and other IT professionals involved in asset management, resource budgeting, finance, software licensing, contract management and strategic planning.
DAY 1
Introduction to IAITAM
Instructor Introduction
Student introductions
ITAM Code of Ethics
Description of a CSAM
Overview of the ITAM Program
IAITAM Key Process Areas
Communication and Education
Policy and Procedures
Compliance Management
Software industry member organizations
Compliance preparations
Proactive vs. Reactive SAM
Software Licensing
License types
Discovery and Repository tools, Uninstall tools
DAY 2
Cost Savings and Benefits
Acquisitions & Negotiations
Terms and Conditions
Finance Management
Software Management
Forecasting
Business Continuity &
Contingency planning
Leadership Changes
Litigation
Documentation & SAM
Disaster Planning and Recovery
Compliance Factors
Contracts & EULA
Lifecycle Management
Vendor Management
Data Security
Disposal Process
Project Planning
Change Management
Questions and Review Before Exam
POST COURSE
Online certification testing is available for students starting the last day of class; from this point the exam will be open for 28 days however it is suggested to take the exam as soon as possible following the course.
Testing requires non-interrupted internet connection and may be taken at any time during the open period; once a test is started, students are required to complete it during that session and are permitted up to 5 hours to complete.
One hundred (100) questions are on the IAITAM CSAM exam and a passing mark is achieved by attaining 85% or higher.
One test retake is free of charge for those that fail to achieve pass status on the first attempt; retakes are available after a 48 hour window of the first attempt and must be completed during the 28 day open period.
If a student is unable to complete the exam and retake (if needed) within their 28 day window, a one-time thirty (30) day extension can be purchased for $50USD; this option must be completed before the initial 28 day window expires.
If the exam is not purchased with the course, the student may purchase the exam within 90 days of course completion.
Exam results are available immediately after completing the exam within the IAITAM Exam Center.